spektakl
"The mirroring", bees-R 
spektakl
"The mirroring", bees-R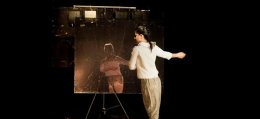 "The mirroring", bees-R 
Serdecznie zapraszamy na solowy spektakl "The mirroring" w wykonaniu Jany Terekovej z kompanii bees-R
 Choreografia i wykonanie: Jana Tereková
Muzyka: Joseph Champagnon wraz z muzyką Batatunde Olatunji
Tekst i głos: Zuzana Husárová
Scena i light design: Ján Ptačin
Kostiumy: Gabriela Paschová
Produkcja: Veronika Malgot, Jana Tereková
Czas trwania: 36 min
 Simulation of potencial scenarios
passing in cascades under the city
 Jana Terekova´s dance solo makes the room vibrate by her movement that is dynamically connected to Zuzana Husarova´s contemporary poetry and Joseph Champagnona´s organic live music. The dancer deforms her body and her movement.  The poetry breaks the reality into small pieces. The mirror, imperfection beauty, lightness. Magic visual moments vibrating in the assumption what you borrowed, what reflects itself, you shall return,… 
Supported using public funding by Slovak Arts Council.
A beneficié de la mise à disposition de studio au CN D Centre national de la danse.
Trailer: https://www.youtube.com/watch?v=IHAoXsK3igE
About bees-R
bees-R is focused on creation of dance and mutigenre performances able to connect internationaludience. The production of bees-R provided more than a few projects, that connected cooperation of leading international and slovak artists since its foundation.
The MIRRORING : a multigenre dance performance that dynamically connects dance, poetry and light design, CREATION: a dance performance with poetry, PHENOMENA RESEARCH: a multimedial performance connect aing dance, digital poetry and live visuals, SEE: a dance performance with live music and dance performances Imago and Debody. 
Productions of bess-R took place at many well known festivals and artistic scenes in Slovakia (Slovak National Theatre, European City of Culture Košice 2013, Kulturpark Košice, Nu Dance Fest, Ars Poetica, Theatre elledanse, A4 –  place for contemporary culture, Záhrada, Divadlo Štúdio tanca, Vlna naživo, Dni slovenskej literatúry, etc.), in France and Czech Republic.
 Dancer and choreographer Jana Tereková has established and gained the attention of public by her participation in dance and theatre-dance projects lead by notable slovak and international choreographers and directors, that were presented in Slovakia, Germany, France, Poland, Hungary and Czech Republic. She gained a audience award at Solo Duo Festival in Budapest in 2011. Part of her dance education is long term work for Centre National de la Danse in Paris.